Bentley's new Azure pack takes luxury motoring to incredible levels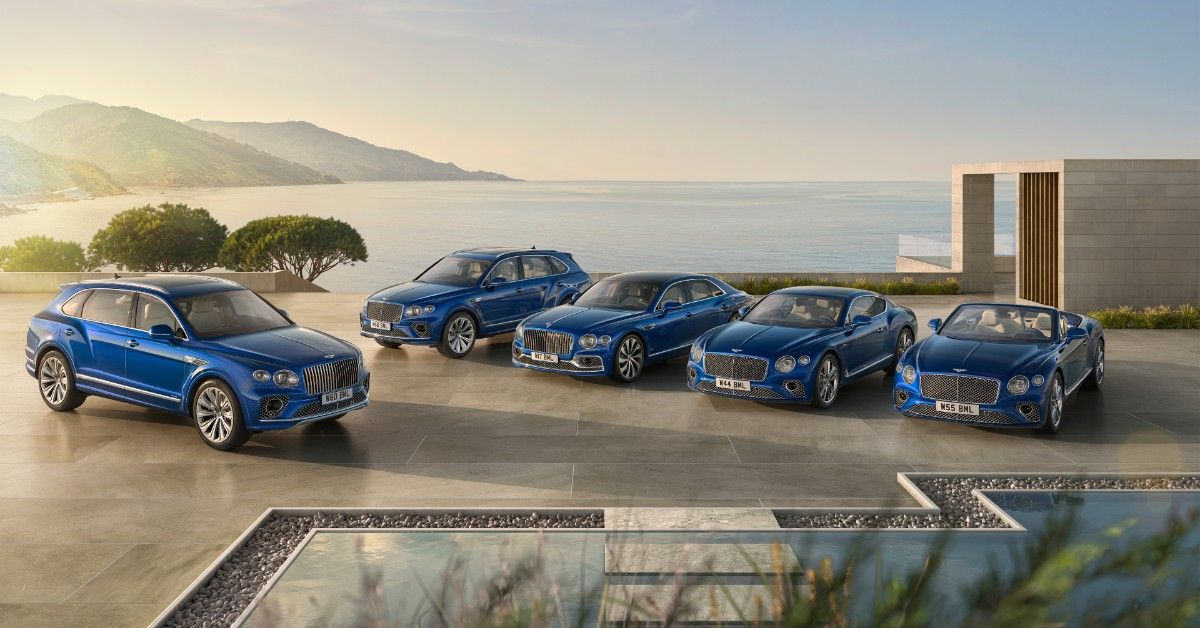 The reintroduction of Bentley Azure promises new convertible variants of the Continental GT. But 'Azure' this year seems more than that. It's a 'feel good' makeover for every car in the Bentley range. Let's face it, this isn't your typical trip to the dealership, test drive, and purchase of the car. It's one of a kind. It exudes opulence. Likewise, it is also a head turner on the highways. Bentley has added the new Bentayga EWB to its product list, along with a special launch edition of the luxury SUV named Bentayga EWB Azure. The Azure package is now available for Bentley's entire portfolio of five models. Which includes the regular Bentayga, Flying Spur, Continental GT and Continental GT Convertible.
Bentley says the new Azure models come with a curated selection of additional equipment and conveniences. Focus on passenger comfort and certain driver assistance systems. The Azure badge is an alternative to performance speed variants in this regard. The Bentley Speed ​​is synonymous with power. But the Mulliner is the pinnacle of luxury and performance. The Azure series is synonymous with relaxation. Azure offers a carefully designed set of amenities to enhance comfort and well-being.
RELATED: How the Bentley Bentayga EWB Compares to the Mercedes-Maybach GLS
Quintessence of luxury behind the wheels
From the air ducts with the signature organ shut-off airflow controls to the interior feel, the cabin is a work of art. Azure consumers can choose from three open-pore finishes for the dashboard. Available in Dark Walnut, Crown Cut Walnut and Koa. Bentley offers 15 leather colors and color splits to match the visual appeal of the interior. The cabin becomes quite the place to be when fitted with a Naim Audio system with a 20-speaker setup. As well as an additional 10.1-inch screen entertainment system for the second row.
Wellness embroidery, a wide range of possible wood veneers. And 15 skin colors or separate colors with contrast stitching and seat piping, as no-cost alternatives abound in the cabin. Azure versions receive distinctive tread plates and Bentley "B" pedals. Plus, ambient lighting, a two-tone heated steering wheel and bonus Azure seat embroidery. The Continental GT Azure just has a fixed panoramic glass sunroof. While the Flying Spur Azure, has a panoramic roof with Alcantara blinds.
RELATED: Here's How Much a 1995 Bentley Azure Is Worth Today
The new class of wellness at incredible levels
Although it lacks the scream of a Lamborghini and the beauty of a Ferrari. This ultra-luxury vehicle embodies luxury and performance in its own right. Bentley says they worked with a creative neuroscientist, Katherine Templar-Lewis, who helped them design Azure-specific features. Their goal was to create a "stress-free" interior for the Azure package. The interior allows customers to recharge their mental batteries.
Maria Mulder, Head of Color & Trim at Bentley Motors, comments: "When we see pleasing shapes, shapes and colors, our brain releases chemicals such as dopamine which not only make us feel good, but are good. for our body and our sense of well-being. Sensory receptors convert physical stimuli into neural activity, creating changes in our brain and nervous system. Every fabric, sound, movement, color and touch has a continuous impact on our nervous system and the Azure cabin has been fine-tuned accordingly."
According to Bentley, "The relaxing and re-energizing environment of the Azure cabin, which reduces driver fatigue, thanks to its multi-sensory and scientific design, can only contribute to improving the safety of the car. Studies have shown that in 20% of all road accidents, fatigue played a role."
Ride comfort, along with noise, vibration and harshness, were crucial elements for relaxing in a Bentley automotive study. People exposed to extreme road noise above 70 dB are 65% more likely to develop depression. In this regard, the Bentayga EWB Azure has better NVH levels than the others. Ranging from four to 26%, depending on frequency and placement inside the vehicle.
RELATED: The King of Super SUVs: Meet the Lamborghini Urus
Aircraft seat specifications and Bentley's advanced driver assistance technology for safer and more relaxing journeys
All Azure models offer 22-way adjustable seats, allowing passengers to choose their perfect seating position. The seats also have heating and ventilation capabilities. This function will maintain a comfortable body temperature. According to Bentley, these leather-wrapped thrones can facilitate everyone from a 95th percentile male to a 5th percentile female. A massage function with six programmed settings is also available on Azure seats. The Front Seat Comfort specification adds adjustable side bolsters, motorized seat belt adjustment and comfort head restraints to Azure models. These characteristics are due to the fact that when a person collapses, they use up to 30% less oxygen. As a result, it adds to physical stress and impairs the ability to think clearly.
Bentley also offers Bentley Dynamic Ride, a 48V active anti-roll control system that helps prevent the car from rolling. This technology protects car occupants from excessive movement. To counter body roll, it can produce 1,300 Nm of anti-roll torque (959 lb-ft) in less than 0.3 seconds. It's unclear how much the Azure standard will cost on these models, but it won't be cheap.
This is the best feature of the new extended wheelbase Bentley Bentayga
Read more